"FREEDOM IS THE RIGHT TO CHOOSE"
– Archibald MacLeish
Yes! LGBT & Section 377 are trending topics in India today. Time is changing and people started to think progressively (finally).
This has been a topic of debate everywhere and different people have different opinions. But the fact is: people should be allowed to be who they are and love what they love.
It is a part of personal freedom! And that's exactly what was taken into consideration yesterday when the Supreme Court decriminalized homosexuality (section 377 of IPC).
Freedom could only be true where LGBT communities possess equal rights.
Chief Justice of India Dipak Misra observed that LGBT community has the same rights as any other and that homosexuality is not a crime. "No one can escape from their individualism. Society is now better for individualism", he said as part of the Supreme Court's judgment.
It was a judgment that came as a massive relief and a huge cause for celebration. But if you're still not sure of what happened, we'll explain it.
First things first: what is Section 377 of IPC?
Section 377 of the IPC deals with "unnatural offenses".
It held that "whoever voluntarily has carnal intercourse against the order of nature with any man, woman or animal shall be punished with imprisonment for life, or with imprisonment of either description for a term which may extend to ten years, and shall also be liable to fine."
Basically, it says that any type of sex which is not "natural" (anal or oral, for instance) was a crime. Even if there was consent. No matter the gender of those who are doing it.
Where did Section 377 come from, and how was the process to erase it from IPC?
The criminalization of homosexuality was first imposed by the British in 1860, which found sexual activities between members of the same sex against the "order of nature."
In 2009, in a landmark judgment, the Delhi High Court described Section 377 as a violation of the fundamental rights guaranteed by the Constitution.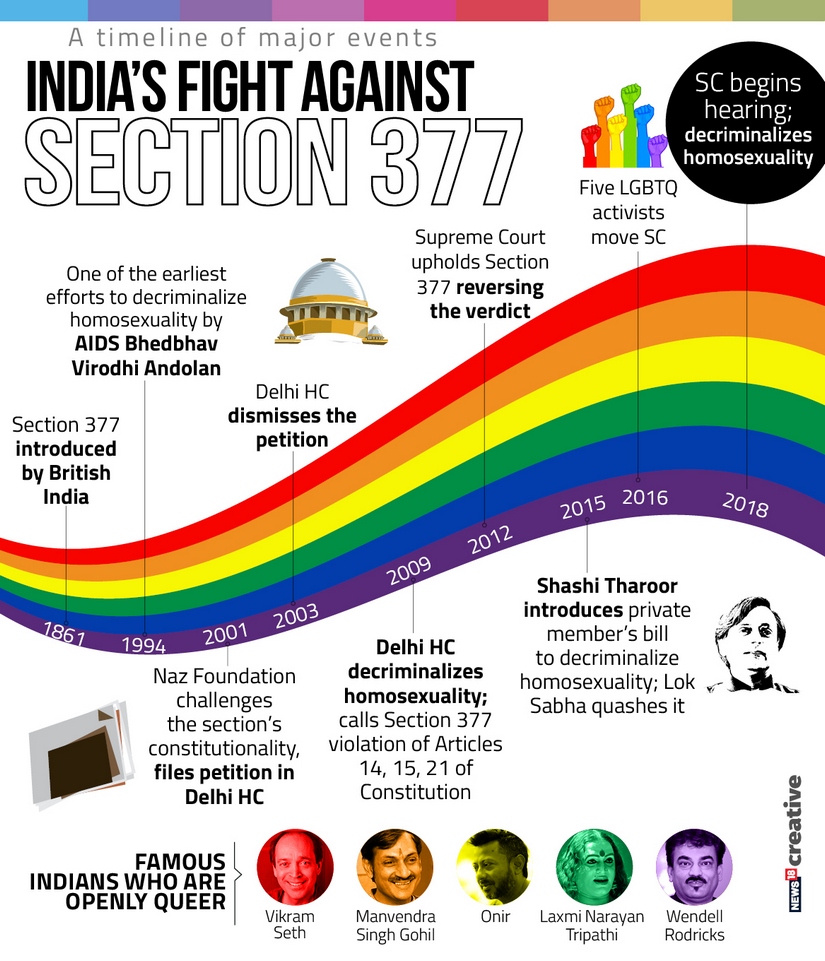 The Supreme Court in 2013 overruled the Delhi High Court's order and reinforced criminalization of homosexuality stating that Parliament's job was to scrap laws.
This judgment by the apex court was highly criticised by the LGBTQ community in India and was seen as a setback for human rights.
In January 2018, the Supreme Court said a larger group of judges would re-consider the previous judgment and examine Section 377's constitutional validity. Revisiting their 2013 verdict, the court added that it will decide on a curative petition.
The Supreme Court had then said: "the section of people who exercise their choice should never remain in a state of fear."
What has changed since 6th September 2018?
India has just reached a landmark decision for its LGBT citizens. In July 2018, the case to decriminalize section 377 was reopened and, finally, 58 days later, the country is more equal and more colorful.
One of the biggest and the longest running LGBT rights battle in India has been finally won!
A five-judge Constitution bench of the Supreme Court unanimously decriminalized part of the 158-year-old colonial law, prompting joyous tears, hugs, and dancing across the country.
"Any consensual sexual relationship between two consenting adults – homosexuals, heterosexuals or lesbians – cannot be said to be unconstitutional," said the Chief Justice of India, Dipak Misra, as he read out the judgment.
Section 377 is irrational, arbitrary and incomprehensible, as it denies the right of equality for the LGBT community. They possess the same equality as other citizens.
Pride, NOT prejudice
"Where the mind is without fear and the head held high;
Into that heaven of freedom, my Father, let my country awake."

– Rabindranath Tagore
Homosexual sex (actually, sex in general) has been considered taboo by many in socially conservative India. The same applies in neighboring countries of Bangladesh, Sri Lanka, and Pakistan.
It's about time that we finally saw everyone with the same set of eyes.
It's time that we as human beings demolish the taboos that have been prevailing in the society and give our fellow men equal rights and respect.
Loving someone of the same sex does not make us any less human. We all deserve to be happy. After a long dark night, India has finally seen the light again.
But even though now we celebrate a big win, apart from laws, it is the mindset of people that need to be changed. The problem was not solitary on Section 377, it is in the society itself. This is the real reason why most of the people are still living in dark shadows, feeling vulnerable and powerless.
Rape laws did not prevent all rapes, dowry is still on. The same way, until people change the way they think, we all will still have some chains to break.
Let us know what you feel about this wonderful news in the comments section below!
Till then let's go and give a big hug to all our friends who have finally won this battle and received their share of happiness.

Written by
Studying bachelor's in biotechnology, Aayushi is a really passionate person, who loves to read and travel. She believes people, places, and stories have the power to change anyone and help them understand the purpose of life.